Quality Control Department and Laboratory
Our products are tested in a laboratory equipped with specialized instruments and devices. Therefore, we guarantee the highest quality and standards of product manufacturing.
The ACO 07 crimp series report
EQUIPMENT AT OUR LABORATORY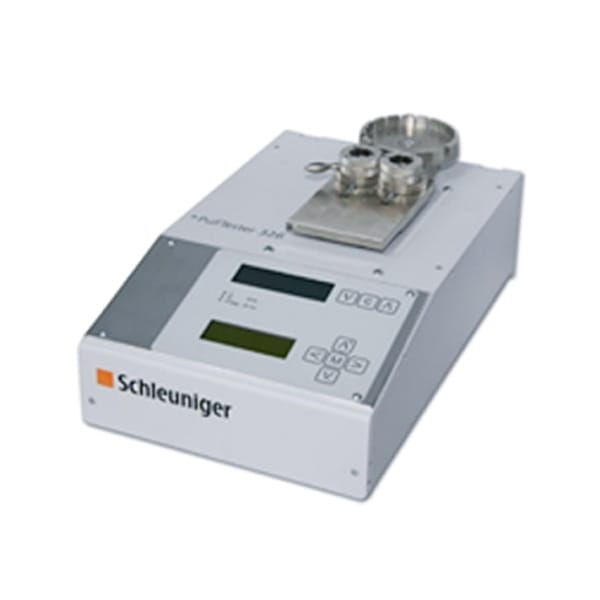 The PullTester 326 – pull-off force measuring device
The versatile PullTester 326 with three separately calibrated measuring ranges.
Scale up to 200 N (45 lbs) designed for small cable cross-sections
The 1000 N (220 lbs) or 2000 N (440 lbs) scale for larger cable cross-sections
The device has 4 types of tests to be selected from:
Pull & Break – pulling until the connection is broken
Pull & Hold – pulling to the level of certain force, holding from 1 – 120 seconds and releasing
Pull & Return – pulling to the level of certain force and releasing
Pull, Hold & Break – pulling to the level of certain force, holding for 1 – 120s and breaking
The WinCrimp software installed on the computer, which is an integral part of the PullTester device, is used to present the course of force in time and for statistical analysis with the possibility of sending data to Microsoft® Excel and generating reports.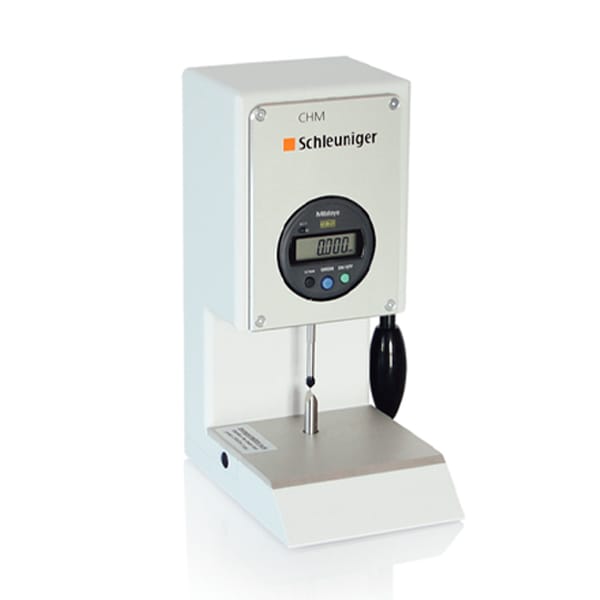 Device for measuring the height of the crimped CHME contacts
A precise meter for measuring the height of the crimped contacts with the option of measuring with the accuracy of 0.01 mm.
As with the PullTester 326, the height measuring device can to save and generate measurement reports thanks to the WinCrimp software.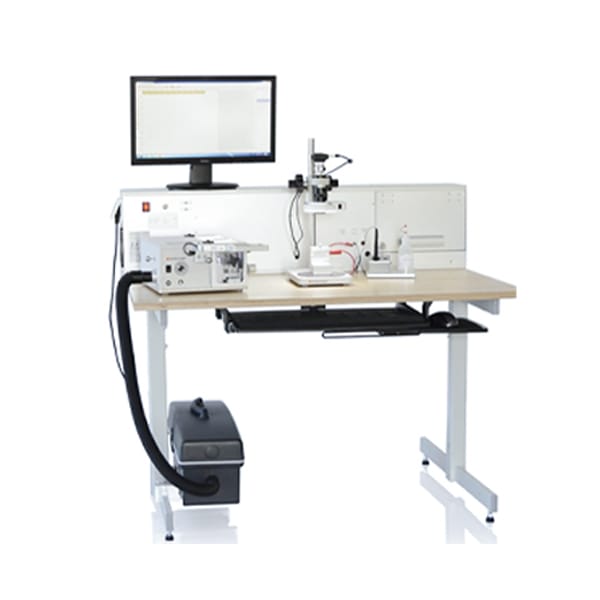 The laboratory is equipped with 3 devices for making and testing crimp connections. These are:
The SPU 60 micrograph saw is equipped with a sintered carbide disc blade for precise cuts of contacts with maximum height of 20 mm. The device is equipped with a polishing disc to ensure a smooth and clean surface finish if necessary.
Electrolytic ESU 6 unit for electrolytic pickling in order to create high-quality images of the surface of the crimped joint.
The MZU 1.3 microscope with resolution of 1.3 megapixels, equipped with a USB camera and LED backlight for precise close-ups of crimp connections. The device is connected to a computer with KMF CrimpLab 2 software and enables taking photos and laboratory measurements.
Production process control
The UNICRIMP 200 and STRIPCRIMP 200 bench presses are equipped with the ACO 07 crimping force control device. After making 1 – 20 reference crimps, the ACO 07 checks each crimp and compares the measured values with the results of the reference crimps. The measuring range of the device is from 0 – 15 kN.